For parents who don't want their child to struggle...
WANT TO MAKE SURE YOUR CHILD ISN'T PICKED ON?
Bully Proof Your Child in Just 2 Weeks Course

Everything you need to 
bully proof your child quickly and easily
,
 so you have a much happier kid 
- guaranteed.
This product is designed to help children 6 to 12 years of age.
"The verbal self defense techniques have helped my child immensely. My daughter has had incidents at school with mean girls. She was able to use what she learned in this course and snapped back and since then she has not had any further problems. I would have never been able to put this all together myself and I would recommend this to anyone with children."
- Anne, mom of two.

Feel confident knowing that your child has the skills to verbally shut down bullies, fit in at school, and build meaningful friendships.
DOES THIS SOUND FAMILIAR?


Do you worry about your child being picked on, bullied or teased? And you're not sure what to do?


As a parent, you feel so helpless and angry when your child is bring picked on. You wonder how do I help my child? You want your kid to have good coping skills, you don't want to be the parent that solves every problem for them. And yet in your heart, you pretty much want to scream at any boy or girl that's hurting your kid.
You feel angry with the mean kids and yet at the same time you know that your son or daughter has to learn how to fight their own battles, and learn coping skills because parents can't be there every minute of the day.
Do you wish you had the skills to teach your child how to deal with challenging kids? Maybe you've even tried to teach your child how to stop the teasing or stand up for themselves. 

And yet, it's not quite working.
When a child is being picked on at school they need help, usually, it is not a problem that kids will be able to solve by themselves. The trauma of being picked on can have lasting negative effects on a child's mental, social, and emotional well being. 
But what if bully proofing your child could be a whole lot simpler?
The truth is that having a system that really works is a game-changer, one that will help you teach your child the skills they need, read social cues, and how to create a plan of action that really works.
"I'm a psychotherapist and this is a wonderful resource for parents navigating their children's social world and in particular those being challenged with bullying. It's full of excellent practical strategies, provides real life examples and is extremely easy to use. Happy to recommend this product to my clients! 
- Andrea Josson, Psychotherapist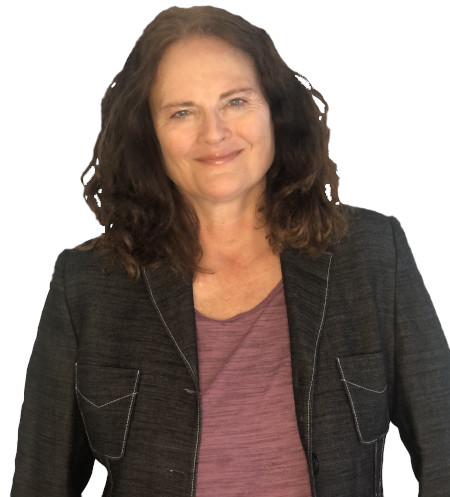 I get it

Hi, I'm Bryn, when my son was in grade 5, his former best friend was a covert bully and turned all of the boys in the class against him. I was determined to figure out how to solve this bullying problem, I knew I had to help my child because the school wasn't going to.
I felt like a bad mom because I had no idea that I even needed to bully proof my child. If I had bully proofed my child in advance, I would have saved my son a lot of stress and heartache.
Our family created a plan of action to turn the bullying situation around. I run the largest self defense web site in the world, and help adults defend themselves when they are verbally bullied.
Traditional methods of don't say anything back to the bully made the situation worse. The bully doubled down on our child when he didn't respond.
I taught my son how to use the most awesome responses when kids picked on him. He slayed his bully with words in front of the class, and all of a sudden the bullying stopped. Now my son knew what to say and how to say it, he was no longer a bully magnet at school.

I dug a little deeper to understand why certain kids get picked on and the psychology behind social status and how it works. 
Using the methods I learned, we rebuilt our son's confidence, and focused on ways he could shine and regain social status with his peers. We filled our son up with so much confidence that he became a leader in his class, and was able to graduate a year early from high school.
I have now helped hundreds of families turn bullying situations around when their kids have been targeted. If you bully proof your child in advance, you can ensure that your child isn't an easy target for bullies at school.
"I think parents and educators could both glean useful tips for talking about bullying at home or in the classroom from this course. Bryn goes into fantastic detail about how bullying not only has a lasting impact on a child but what tips and tricks you can give a child to empower them. This course will leave you and your child both feeling empowered to know what to say and do in the heat of the moment."
- Hadlee Grace, Teacher
Your child Your Child Deserves to Feel Confident at School
JUST IMAGINE IF YOU COULD...


Teach your child verbal self defense with clever comebacks and assertive language that shuts down teasing immediately.
​Provide your child the skills to deal with different social situations so they can feel comfortable knowing how to respond.
Teach your child the number one reason kids get picked on and how they can avoid it.​ You'll hear it straight from our interviews with kids who share how children can fit in better with their peers.
Feel confident knowing that your child isn't an easy target for bullies. We'll share exactly what behavior to tweak so your child isn't singled out by other kids.
Learn how to build your child's confidence so they can motivate themselves to take on new challenges, stand up for themselves and ask for help when they need it.
5 Ultra practical strategies that your child can implement that will lead to better friendships.
Use the #1 ridiculously simple tactic for getting your child to open up to you, that you can use for years to come.



"Like most parents, I have spent time, money and effort developing my children's sports skills and academic skills. Regretfully, I have not done much to intentionally develop their relationship skills. It is unfortunate because interpersonal skills have so much more impact on their overall life experience. The problem was that I never had a clear path on how to develop these skills until I took this course. I love that there is no fluff. It's all actionable and practical. My middle schooler has had trouble with bullies since preschool. I wish I would have had these tools back then. His entire school experience would have been so much better. I'm so glad this course exists to give parents tools to cultivate confident children who have the verbal self defense skills to shut down the bullies in their lives. " - Alisha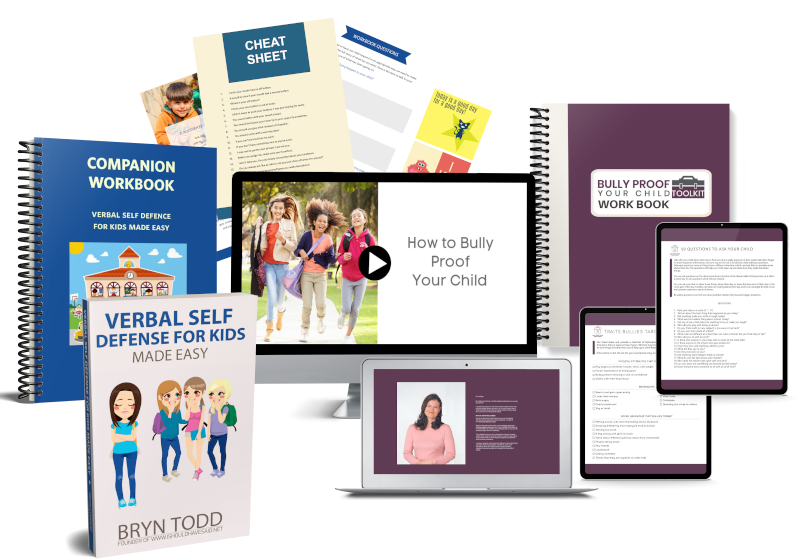 Get The Tools, SKILLS & Strategies You Need To Bully Proof Your Child Today


Includes our
 Bully Proof Your Child Program video course 
which will show you how to help your child fit in with their peers. Learn from interviews with kids why some children are excluded and what you can do to avoid it. See your child through a bully's eyes and know exactly what to change to ensure that your child isn't a magnet for bullies. The confidence boosting hacks in this course are worth the price alone. (a $79 value)


Also includes our
 game-changing program Verbal Self Defense for Kids Made Easy. 
We will share the most common bully slurs and amazing comebacks that render bullies speechless. Your child will be more confident and assertive in no time!
Includes dozens of additional printable resources
 to help you connect with your child to help you figure out what is going on in your child's world, and a whole lot more. (a $63 value)
An entire library of videos, tools & resources to help you bully proof your child.
"This course is so helpful. I had no idea where to start when my child was being picked on at school. I found this course to be a lifesaver." - Manjeet S. 
This course is secret weapon for parents who are helping their children deal with mean kids and bullies
The Toolkit Includes:


Bully Proof your Child Program Course (Valued at $127)
Interviews with kids sharing why some children are bullied (Valued at $19)
Verbal Self Defense fo Kids Made Easy (Valued at $29)
Workbook (Valued at $19)
Cheat Sheets telling you what to say in any situation (Valued at $19)
Confidence Boosting Lunch Box Love Notes ($17)
What Makes A Good Friend Worksheet ($6)
50 Sideways Questions to ask what's going on with your child's world ($6)
20 Movies that will help you discuss bullying with your child. ($6)
Inspirational Wall Art ($27)


$297 Value for Only $127
"The kid's interviews sharing why some children get picked on was very illuminating. I feel like I now have more skills to help my children deal with mean kids at school." - Eden K.
WHAT'S INCLUDED
The Bully Proof Your Child Video Course
7 powerful but short video modules filled with actionable tips you can use right away to help your child. 
MODULE 1: WHO BULLIES TARGET AND WHY 
Dramatically help reduce the chance of your child being picked on at school. In this incredibly important module, we will break down the reasons why kids get picked on, as well as offer some simple and practical solutions.
MODULE 2: HELP YOUR CHILD FIT IN AT SCHOOL & LEARN THE SOCIAL RULES 
This lesson will cover the social rules of school and the shifts your child can make to have a better experience with their peers. Kids may be excluded or face peer rejection because of a social behaviour that they are not even aware of. With a few tweaks, and learning the social rules, your child can have an easier time.
MODULE 3: INTERVIEWS WITH KIDS
In this incredibly important module, you'll discover the secret social rules that kids have. You'll hear it straight from our interviews with kids who will tell you the truth about what turns other kids off, and about how to have a better experience at school.
Interview #1 - A 50,000 foot view of fitting in at school.
Interview #2 - Transferring to middle school and changing friendships.
Interview #3 - Why clothes are important and what social behavior annoys kids.
Interview #4 - Ways for your child to build strong friendships with kids outside of their school. (Help your child feel connected when they are being left out at school.)
Interview #5 
- Reinventing yourself at a new school, building confidence & overcoming social anxiety.
Interview #6 - Dealing with a bully in grade 3.
MODULE 4: VERBAL SELF DEFENSE FOR KIDS MADE EASY
This module will show you how verbal self defense for kids is a super power that will teach your child how to effortlessly shut down bullies in record time. Your child will learn how to stand up for themselves without being unkind. Bullies target kids who don't respond, so teaching your child what to say to taunts can shut bullying down quickly.
MODULE 5: MAKING FRIENDS & BUILDING RELATIONSHIPS
Learning how to make friends is a really important life skill. This lesson will cover simple processes for building strong friendships and an action plan for making it happen.
MODULE 6: CULTIVATE CONFIDENCE IN YOUR CHILD
Discover how to build new levels of confidence and self-esteem in your child, and how putting a few simple systems in place can lead to huge results. We will show simple ways to boost your child's confidence without breaking the bank or attending tons of activities. Confident kids are less likely to be targeted by bullies, which is why building up your child's confidence is vital.
MODULE 7: A SAFE PLACE TO VENT
Help your child go from frustrated to calm with our safe place to vent module. This lesson will explain the concept of a safe place to vent, why it matters, and how you can help your child process events that happened at school and eliminate frustration.


"You feel helpless when your child is picked on at school. It helped to have someone guide us through the process of what to do." - Chris K. 


"My son was missing some major social clues which caused him to be singled out and excluded by other kids. The Traits Bullies Target cheat sheet showed me exactly what he needed to work on. This is the best course I have found to bully proof my child. " - Tara E.
Get the Tools You Need to Bully Proof Your Child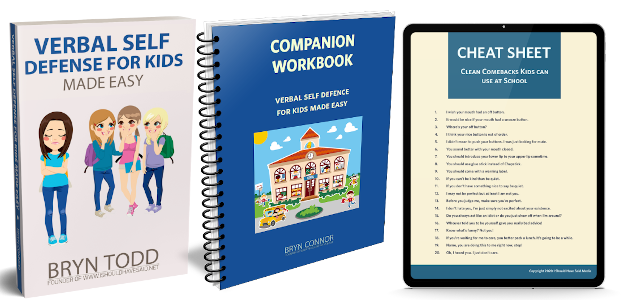 Verbal Self Defense for Kids Made Easy Program

Verbal Self Defence for kids Made Easy is a secret weapon that will teach your child how to effortlessly shut down bullies in record time. Your child will learn how to stand up for themselves without being unkind. 
Includes a book, workbook and cheat sheet.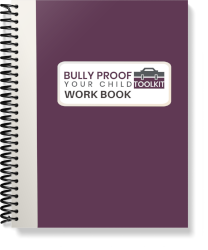 Bully Proof Your Child Course Workbook

Your purchase also includes a comprehensive course workbook with beautifully designed practical worksheets to help you apply your lessons right away. By answering the questions you will create a personalized roadmap to bully proof your child.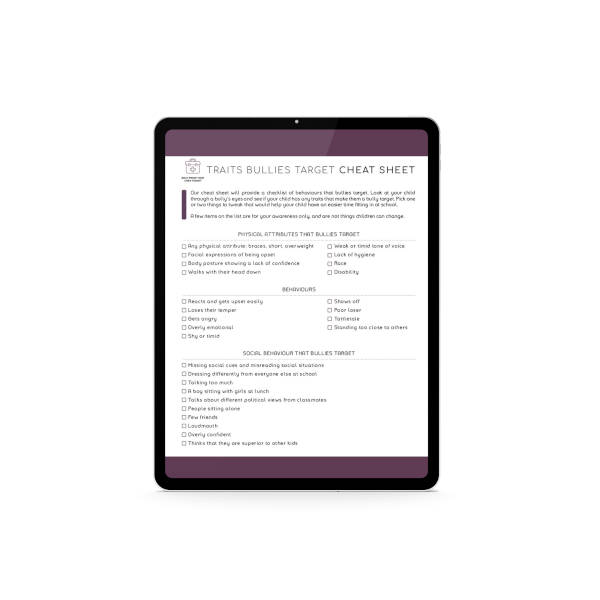 Traits Bullies Target Cheat Sheet

See your child through a bully's eyes, and find out if there is a behavior that your child has that causes them to be singled out by other kids.
Our printable checklist will help you identify things you can change quickly.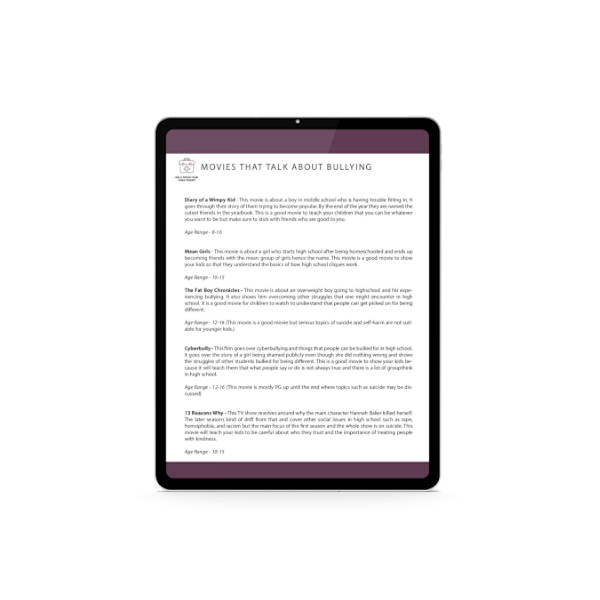 20 Movies to Watch with your child


Watching movies is an excellent way to teach your children about relationships and what 's considered acceptable behavior. Our essential movies to watch will give you an opening for some important conversations with your child.
Plus all of these bonuses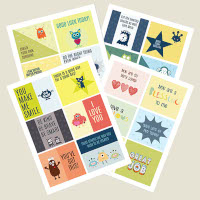 Lunch Box Love Notes
Lunch box love notes are a special way that you can connect with your child throughout the day. Our messages will pass on a little bit of love, and show your child that you are thinking about them. Show your child that you support them by putting a motivational message in their lunch every day.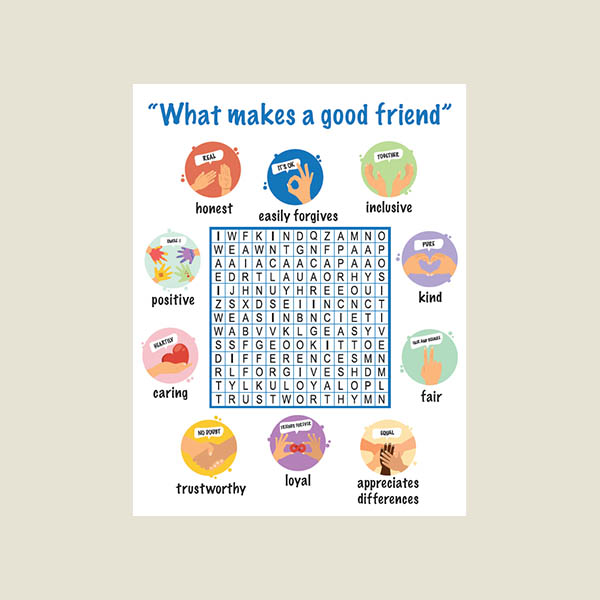 What Makes a Good Friend Worksheet

This worksheet will teach your child the qualities that a good friend should have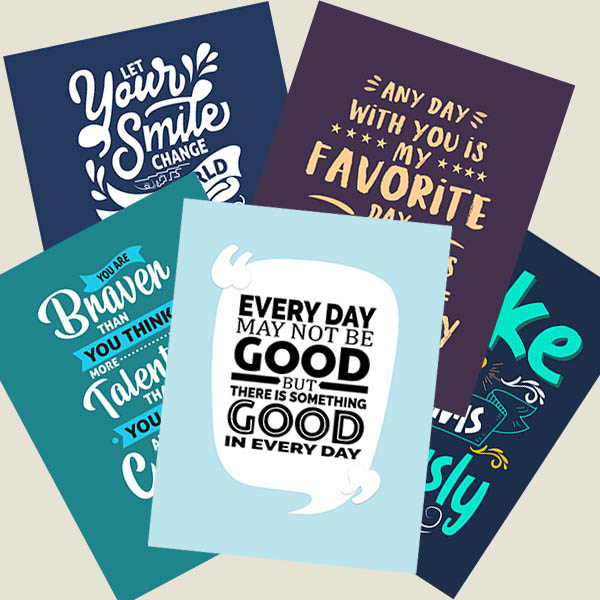 Inspirational Wall Art


These motivational quotes posters are going to lift your child up, and let them know that you believe in them know you believe they're capable of great things.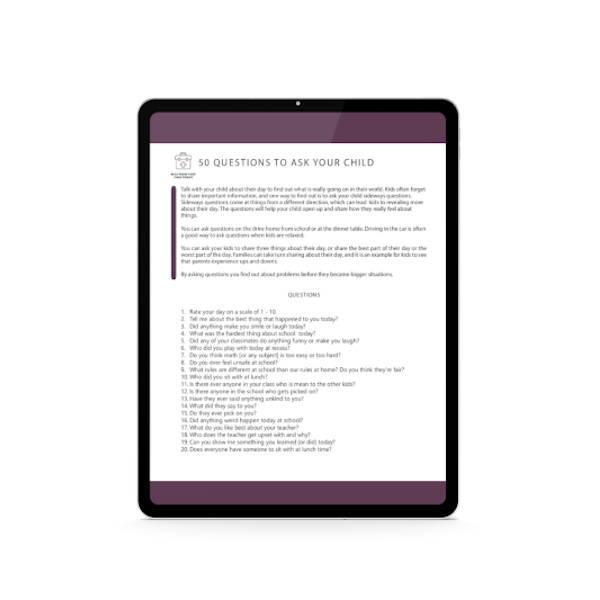 50 Questions to Ask Your Child What's Going on in their world

Ever wish you could improve the connection with your child? You'll learn the biggest mistakes parents make when trying to find out what's really happening at school. You'll learn how to ask questions that help you find out what's really going on in your child's life. Kids don't always share important details of what's going on in their world with their parents. Asking the right questions makes all the difference.



Frequently Asked Questions
What if I am unhappy with the toolkit?
We want you to love your toolkit! We offer a 30 day happiness guarantee. Just email us at 

[email protected]

 if you need a refund.


How old does my child need to be for the Bully Proof Your Child Toolkit
Kids don't usually start getting picked on until 8 years of age, the best time to start building confidence in your child is when they are young. If you start with a child who is five years old, they can learn how to be respectfully assertive and learn to stand up for themselves at an early age.


How much time is required?
You determine how much time you want to spend on the curriculum. Each video is around 15 minutes or less, which allows you to get through the course quickly. You won't have to block off hours of time to do this.


Will I be sent a physical version for all the printables?
This is a digital product, you will not receive a physical copy of the books in the mail. The books are in EPUB format and pdf format. The workbook and cheat sheet are in pdf format. The books are easy to print on standard 8.5 x 11 inch paper. Note printing on a laser printer will be much cheaper than an inkjet. 


How do I know if the Bully Proof Your Child Toolkit is right for me?
If you have you are worried about your child being picked on by other children then this kit is for you. If you have a child with special needs, the methods in this kit will help. However, you will need intervention beyond what is provided here.